"BIN95" Raises the Bar for Programmable Logic Control Training
Giving Every PLC Training Seminar Attendee a PLC With Trainer and Extra Lessons to Take Home
Press Release: Saint Louis, MO (PRWEB) -- "BIN95" Raises the Bar for Programmable Logic Control Training
Click above to read press release.
President of BIN : "Proving once again we care more about the customer learning and continuing to do so after they leave the workshop, than we care about profits. Living up to our creed… "The Best for Less"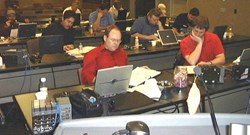 Click Programmable Logic Control Training for PLC Training workshop details.
(Hurry, only 10 seats available in each of these last 2 PLC seminars this year.)
If you do not have need, share with your maintenance and engineering friends, as they may not want to miss this great opportunity.